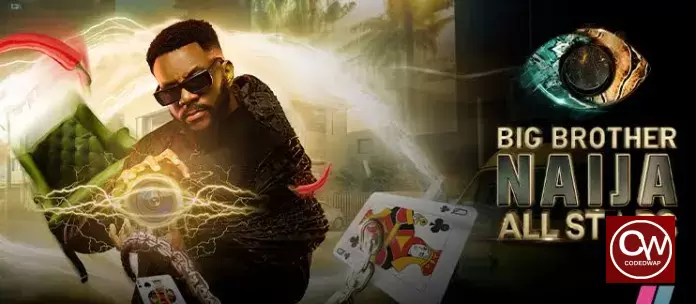 Nigeria's beloved reality TV show, Big Brother Naija (BBNaija), is set to captivate audiences once again with its highly anticipated 8th edition. This time, the show promises to be an unforgettable experience as it welcomes back favorite housemates from past seasons. From engaging tasks and unexpected twists to the ever-entertaining 'Ninjas,' the famous pool and grill parties, and the electric Saturday Night Raves, BBNaija All Stars guarantees 72 days of non-stop entertainment for its ardent fans.
Here are the Big Brother Naija all stars 2023 housemates.
SN

HOUSEMATE

SEASON

AGE

STATE

OCCUPATION

1.

Cee C "Cynthia Nwadiora"

Double Wahala

30

Enugu

Lawyer

2.

Kiddwaya Terseer

Lock Down

30

Benue

Entrepreneur

3.

Doyin

"Doyinsola

Anuoluwapo

David" 

Level Up

28

Ondo

Radiographer

4.

Frodd "Chemeka Okoye"

Pepper Dem

31

Anambra

Tech Enthusiast

5.

Uriel Oputa

See Gobe

34

Imo

Music artiste,

businesswoman

6.

Pere Egbi

Shine Ya Eye

35

Delta

Actor

7.

Princess Francis

Double Wahala

32

Imo

Entrepreneur

8.

Soma "Somadina Anyama"

See Gobe

31

Imo

Graphics Designer

9.

Angel Agness

Shine Ya Eye

23

Akwa Ibom

Writer and Poet

10.

Neo Akpofure

Lock Down

24

Delta

Ride-hailing

app driver

11.

Alex Amuchechukwu

Asogwa

Double Wahala

27

Enugu

Actress and Model

12.

Seyi Awolowo

Pepper Dem

33

Ogun

Actor and Model

13.

Ilebaye Precious Odiniya

Level Up

24

Kogi

Model and Actress

14.

Ike Steve Onyema

Pepper Dem

28

Imo

Actor and Model

15.

Venita Akpofure

Pepper Dem

36

Delta

Actor

16.

Adekunle Tobilola

Olopade

Level Up

28

Lagos

Digital marketing

consultant

17.

Tolanibaj Tolani

Shobajo

Lock Down

30

Lagos

Entrepreneur

18.

Cross Ikechukwu Sunday

Okonkwo

Shine Ya Eye

32

Anambra

Tech Enthusiast

19.

Mercy Eke

Pepper Dem Winner

32

Imo

Actor

20.

Whitemoney

Shine Ya Eye Winner

31

Enugu

Singer &

Song Writer
The Thrilling Twist
What sets BBNaija All Stars apart from its previous editions is the unique twist it brings to the table. For the first time in the show's history, fans will witness the return of their favorite housemates from past seasons. This exciting change is sure to keep viewers glued to their screens, eagerly waiting to see how their beloved contestants fare in the house once again.
Back in the House
The familiar faces of past housemates will undoubtedly evoke nostalgia and excitement among viewers. Some of the most memorable personalities, whose antics and drama left a lasting impact on BBNaija fans, will make a grand comeback. As these All Stars step foot back into the house, they'll bring with them their past experiences, alliances, and rivalries, adding a layer of complexity to the dynamics within the house.
Engaging Tasks and Unpredictable Twists
BBNaija is renowned for its engaging tasks and unexpected twists that keep both the contestants and the audience on their toes. The 8th edition promises no less. Housemates will face a series of challenges that test their physical endurance, mental acuity, and emotional resilience. The anticipation of what task or twist awaits each day will undoubtedly keep fans hooked, eagerly awaiting the next episode.
The Legendary 'Ninjas'
No BBNaija season is complete without the enigmatic and iconic 'Ninjas.' These mysterious figures play a crucial role in the show, orchestrating tasks, delivering surprises, and maintaining an air of mystery throughout the house. As the All Stars navigate their way through the challenges, they'll encounter the legendary 'Ninjas,' adding an extra layer of excitement and intrigue to the show.
Unforgettable Pool and Grill Parties
One of the highlights of BBNaija is the pool and grill parties. These events provide a perfect setting for housemates to unwind, let loose, and showcase their dance moves. As the All Stars reunite, viewers can expect memorable moments, laughter, and even some heartfelt conversations during these social gatherings.
Saturday Night Raves
Saturday nights on BBNaija are synonymous with energetic and electrifying raves. The All Stars edition promises to take the party to a whole new level, with familiar faces dancing the night away to the beat of the music. It's a night where friendships are solidified, romances blossom, and alliances form, all while the audience cheers on their favorite housemates.
With the arrival of BBNaija All Stars in its 8th edition, fans can anticipate an exhilarating rollercoaster of emotions, drama, and entertainment. The return of favorite housemates from past seasons, engaging tasks, unpredictable twists, the ever-present 'Ninjas,' pool and grill parties, and the Saturday Night Raves are all set to make this season one for the books. As the housemates embark on their 72-day journey, viewers will undoubtedly be glued to their seats, eagerly watching every moment of this gripping reality TV show.